Keto and Epilepsy Tips for Disneyland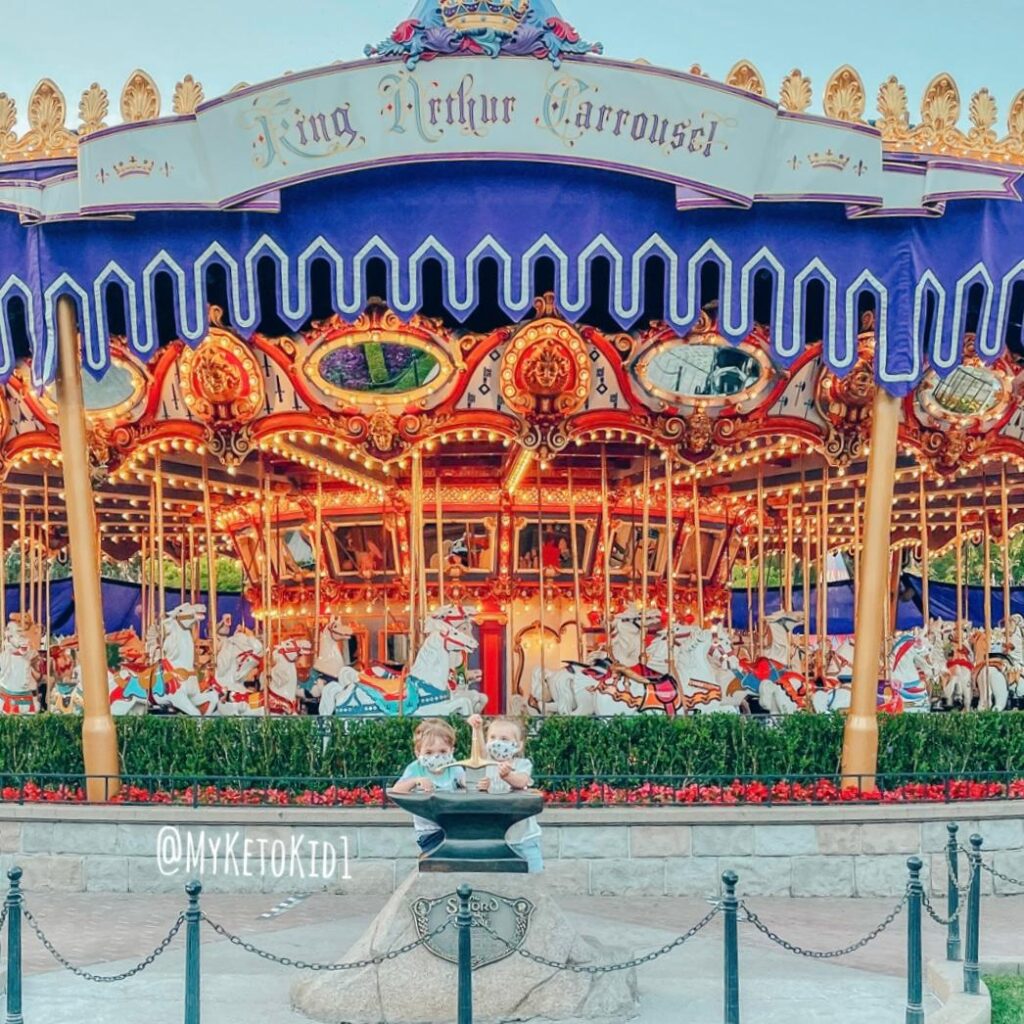 It's no secret that I love Disneyland. It's my happy place. I've always enjoyed Disneyland, but after Reese's diagnosis, I began to love it even more. No matter her developmental stage, there's fun and excitement to be had… the sights, the sounds, the smellitizers!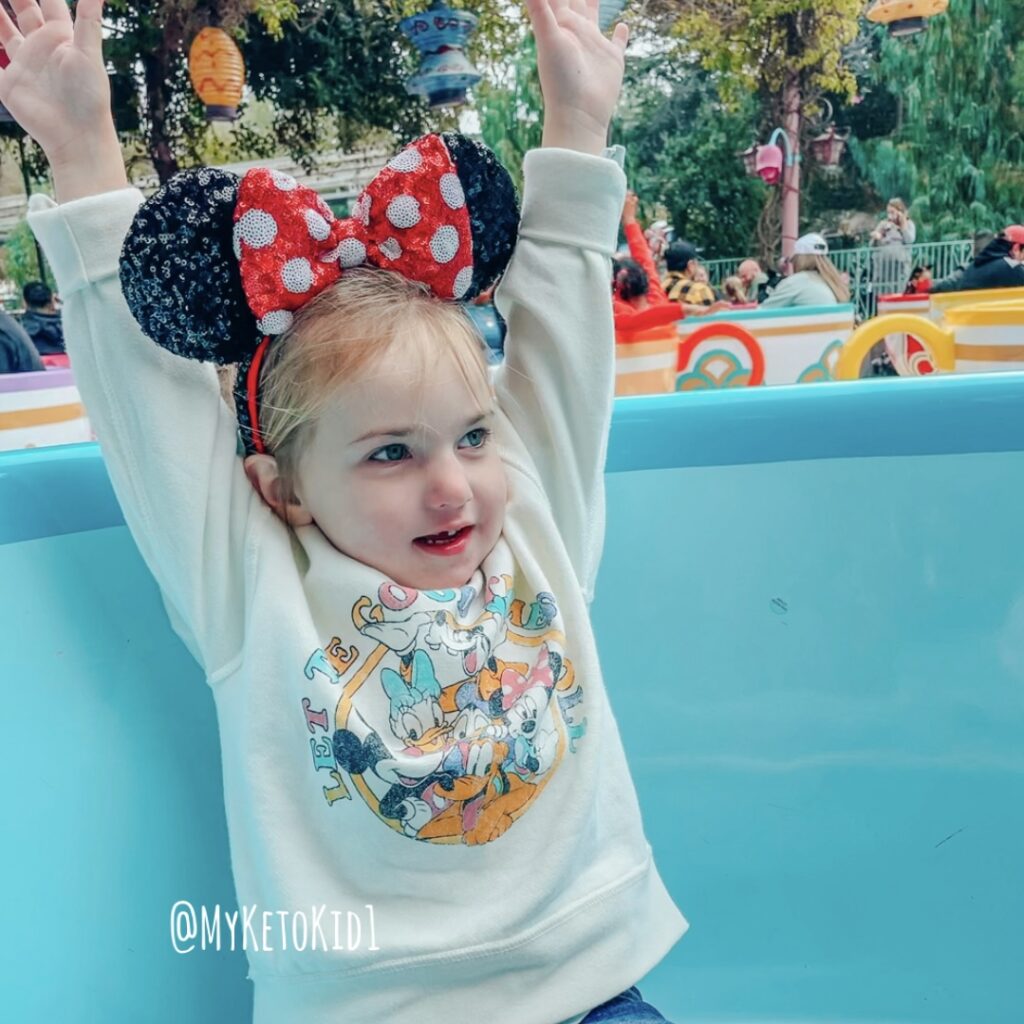 So naturally, I often get asked about tips for Disneyland. I've compiled my best tips and here they are!
Note: these tips are specific for Disneyland, but I'm sure many carry over to Disney World as well.
Food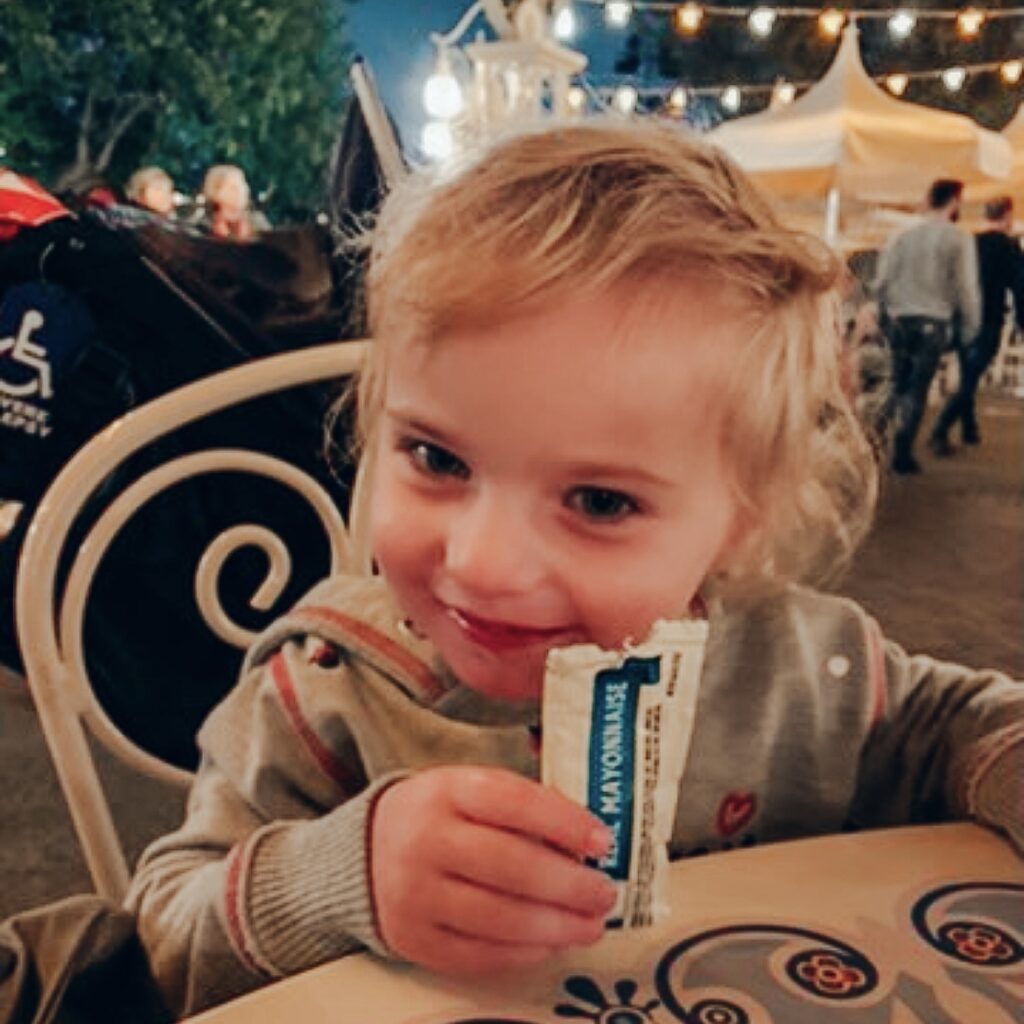 Whether on a medically prescribed diet or not, you're allowed to bring your own food into Disneyland.
I, personally, (and this will be different for everyone and can depend on the macros allowed) don't trust any food in the park for Reese, with the exception of mayo packets and heavy cream from Starbucks.  I have it on good authority that the turkey legs kicked someone out of ketosis quickly.  I'd consider a plain burger patty, but at something like $10 or so for it, it wouldn't be something I'd want to do, considering I can just pack my own food for Reese (and I pack at least some snacks for my son as well).
In a pinch, burger places have mayo packets if you need to add some fat. They saved us on an eating strike at Disneyland once and I'll forever be thankful that they're so easily accessible.
Bring your food scale in case you have to adjust meals on the fly. https://amzn.to/3cTWp5O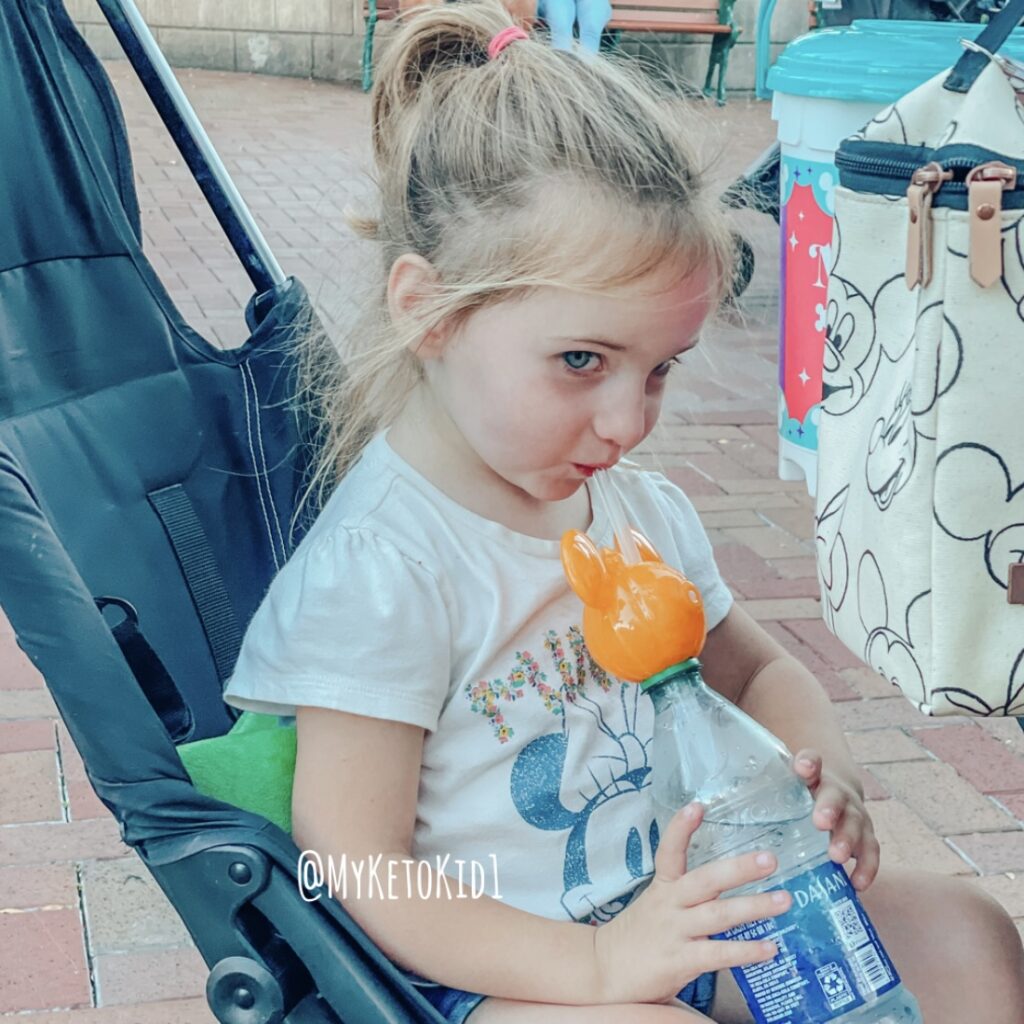 I like to make Reese a special snack (like a quest cookie cut out into a Mickey shape – Mickey cookie cutters on Amazon – https://amzn.to/3vnOnIP ) or buy ahead of time a fun Minnie cup, straw, or something like that. The Dollar Store and Daiso often have treat bags or little Disney toys that help.
I also like to keep an eye out for special treats that aren't food – like this bottle topper that lights up or this bowl from the The Tropical Hideaway (next to the Tiki Room). Sometimes restaurants will have a fun spoon or bowl that I can put Reese's food in and then it suddenly feels like a Disney treat!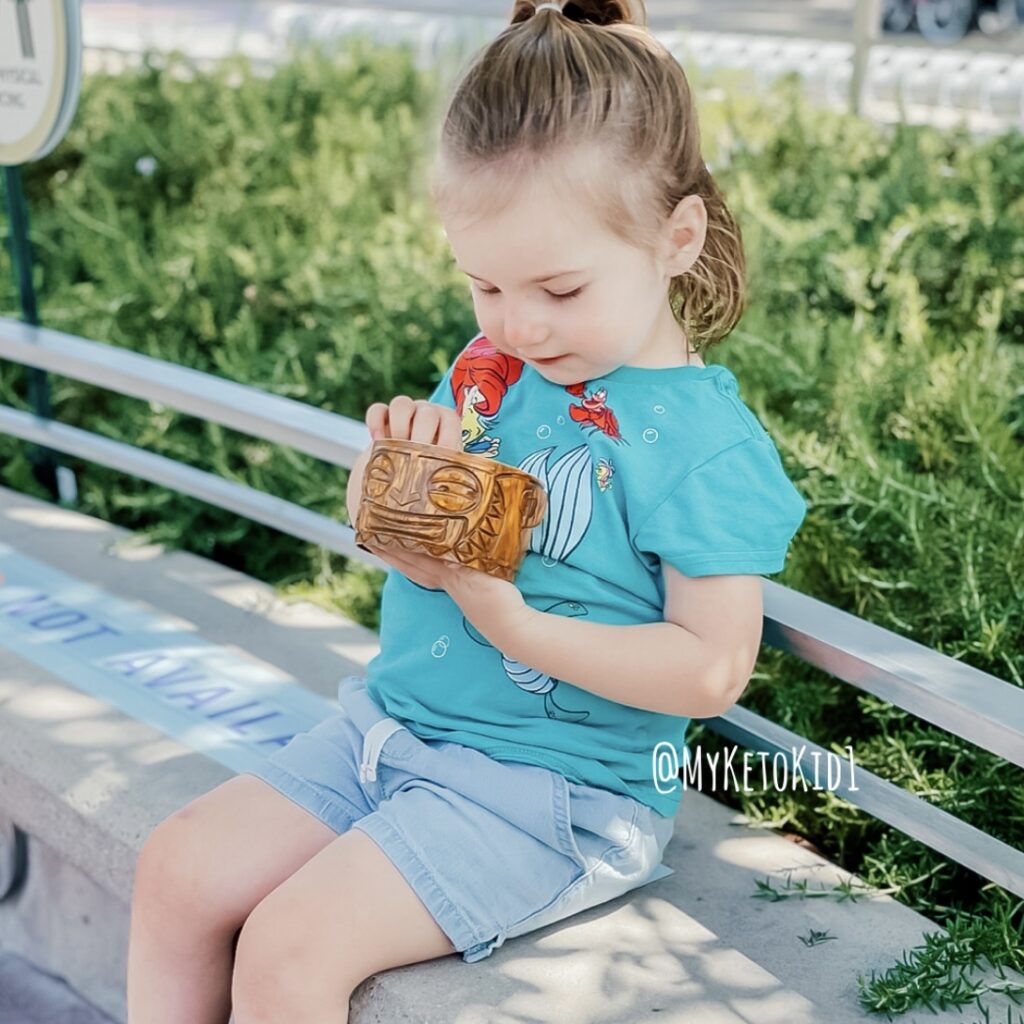 Bring extra meals on your trip… You never know when something will accidentally go bad while traveling or when what you had in mind is no longer interesting to your kiddo.
A few ready-made items we like – Key Nutrients electrolyte packets, Key Nutrients hot cocoa (during winter time), High Key rice krispy treats, Munk Pack granola bars, and Nush cookies.
If you would like to work Disneyland food into your trip, you can contact Disneyland in advance and speak with a chef to see what accommodations can be made. I've not done it myself, but have heard they're great about providing ingredient lists in advance. But this may be a better option for those closer to Modified Atkins than strict 4:1. But with a little planning and Disney magic, you may be able to include your keto kiddo in some fun Disneyland meals!
Link for more information on the Disneyland website: https://disneyland.disney.go.com/guest-services/special-dietary-requests/
Link for more information on the Disney World website: https://disneyworld.disney.go.com/guest-services/special-dietary-requests/
Ice Chests
Disneyland allows you to bring your own food in the park (medical diet or not). But there are a few rules – no coolers larger than a 6-pack size (although exceptions can be made for medical items). No glass (except baby food containers or medicine). No loose or dry ice (since they may need to inspect your ice chest). I use ice packs or put ice in a ziploc bag. You can get more ice throughout the day at the park, but you'll need to keep an eye on it… it'll sweat and possibly leak.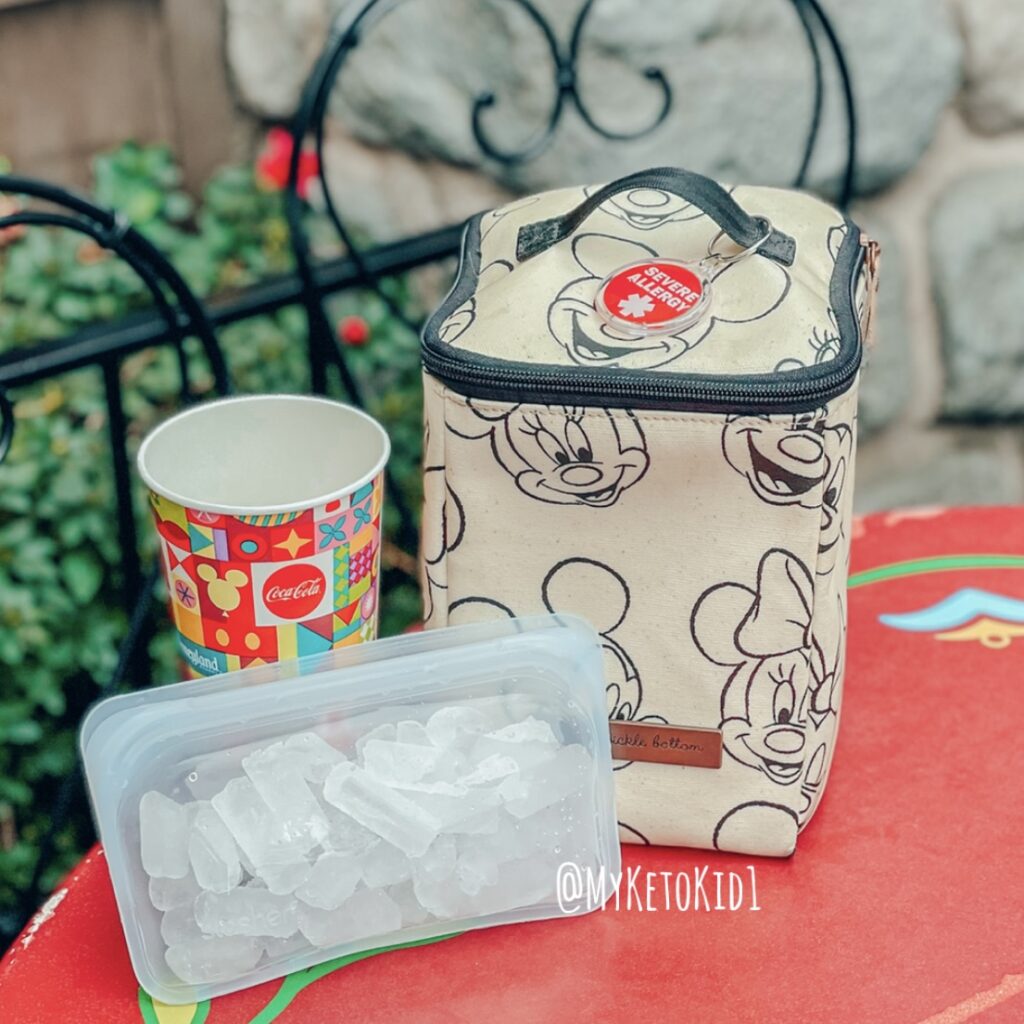 I'm finding that hotels seem to be moving away from refrigerators and often have coolers now, which don't have little freezers on the corner to re-freeze ice packs each night. If you still want to bring ice packs and your room doesn't have a freezer, often there's a bellhop fridge/freezer they can store them in for you overnight… I don't just because dropping them off and picking them up each day seems like it would take too much time. My favorite way to keep foods cool is using a Stasher bag (https://amzn.to/3cTWp5O) and periodically filling it up with fresh ice throughout the day (you can simply ask any restaurant for a cup of just ice).
Petunia Picklebottom lunch bag I use – https://amzn.to/3oFXY9U
There is a security check, so keep that in mind as you pack (don't pack a Swiss army knife to cut your sandwich or something).
Ketone Monitors
You can take a ketone monitor https://amzn.to/3BvIwoC into the park if you have one – security often wants to look at it but it's never been an issue after I explained that it's basically a glucometer, but for ketones.
The excitement and constant activity seem to impact Reese's ketones more than I would have expected, so I like being able to test throughout the day, but that's just me…
Reese generally eats quite a bit less than normal while at Disneyland. Not sure if that happens with all kids, but I sort of factor it into my meal planning. Consider how exciting, long, and hot days have impacted you or your child in the past.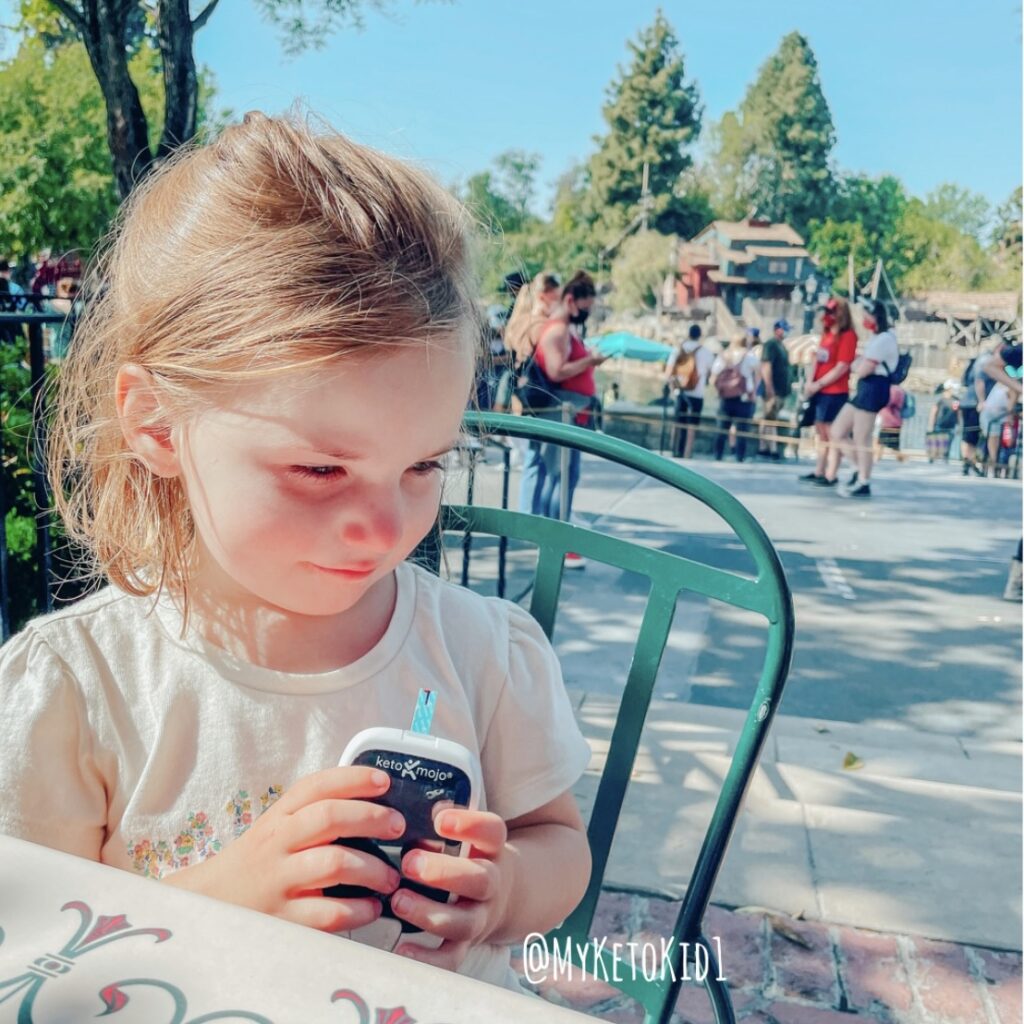 Ziploc Bags
Bring tons of Ziploc bags on your trip… we use them to make ice packs, to package pre-measured foods each day, and to keep used oil syringes after we use them (oil gets everything so slimy!)
Lockers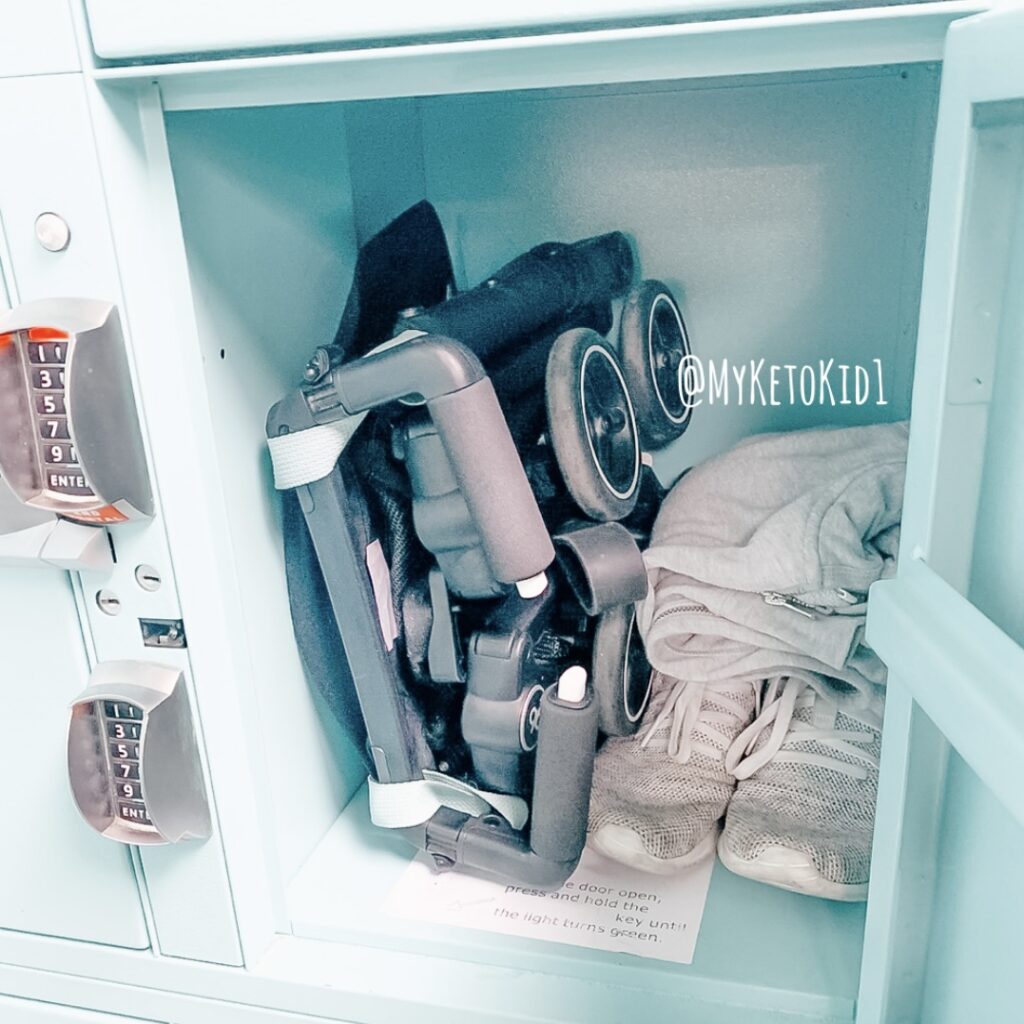 They have locker rentals on Main Street in Disneyland and Buena Vista Street in California Adventure that are $10/day which is usually worth it for us to not have to lug everything around all day that we know we won't need until the evening, like a blanket, jackets, and extra supplies. They also have huge lockers just outside of Disneyland that could hold full sized coolers or even luggage.
Purses
You can take a purse or bag onto rides (the coasters get a little harder for that, but there's usually a pouch to stash them – just don't forget your items when you leave the ride!). I have a backpack with stuff for both kids, but keep Reese's rescue meds in my belt bag (okay, okay… it's a fanny pack, but belt bag just sounds so much better!) https://amzn.to/3JlY8gf so that I can take them on the ride with me… some rides, like Pirates of the Caribbean, are 15 minutes long and you might not want to or be able to wait that long for certain things. And by the way… belt bags and fanny packs are amazing for Disneyland and I highly recommend… you won't go back!
Nurse's Stations
There's a nurse's station at each park (at Disneyland, it's sort of between the Plaza Inn and photography shop at the end of Main Street). Reese once spiked a fever, which worried me for the potential of seizures and we asked for Tylenol… they gave it to us no charge… "on the mouse." Also, if you have meds that need to stay refrigerated, I've heard that they can store them for you (I haven't done it myself so I don't know exactly how the process goes).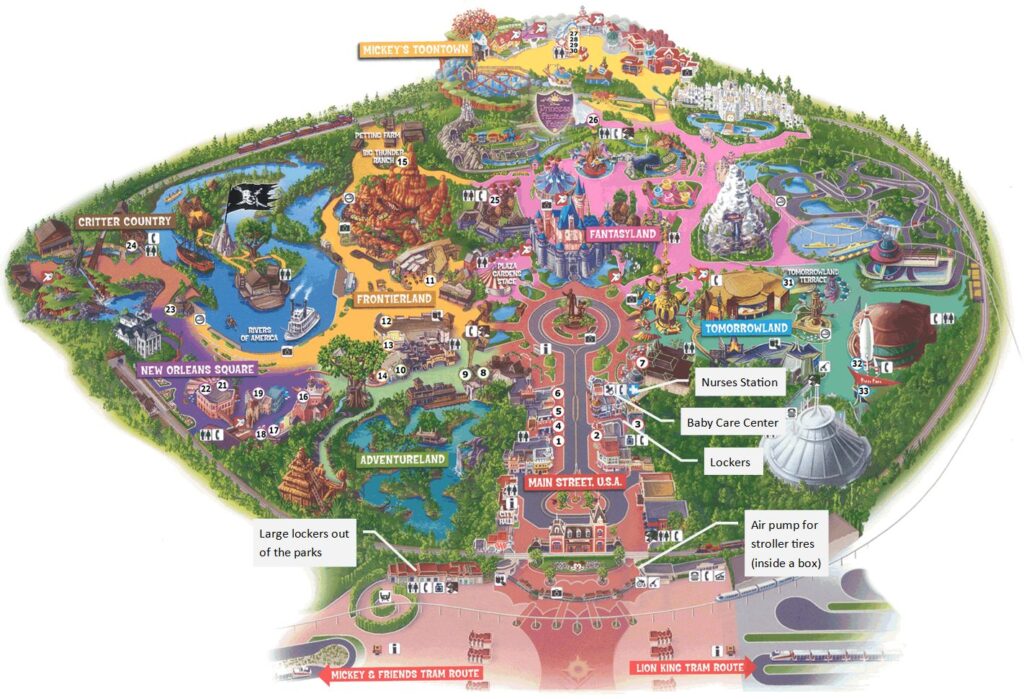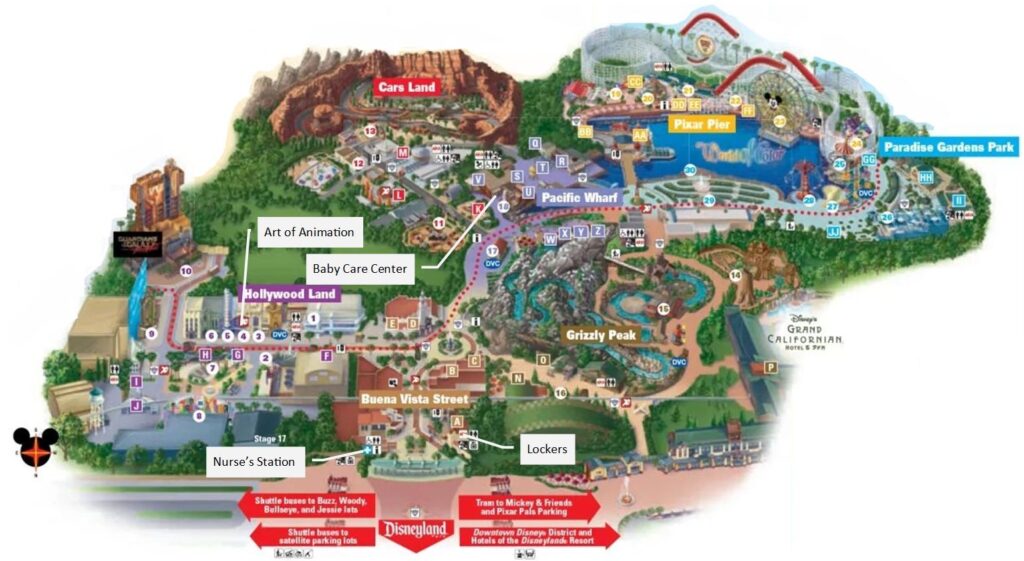 Baby Care Centers
Also at the end of Main Street right next door to the Nurse's Station is a Baby Center. They have large changing tables if you have a larger kid that doesn't fit on the baby changing tables throughout the park. You can also buy wipes, diapers, sunscreen, pacifiers, etc at a vending machine in there. They have microwaves available for use and nursing/pumping stations (if you bring your own pump and want a private place with a power outlet).
CBD Oil
When Reese was on CBD oil, I called and asked if it was allowed and they said no, even when I told them it was prescribed for epilepsy for a (at the time) 2 year old, so clearly not recreational.  Granted, this was a while ago and I think laws have changed in California in regards to medical marijuana and the like.  Disneyland is private property and so they were within their rights to ban it from the property.  Even then, I think Epidiolex would have been allowed if I had pushed it, as it's an FDA approved drug and therefore has ADA protections, but not sure about their stance on CBD oil like Charlotte's Web.  If this applies to you, call first.  
Heat
Heat was a trigger for Reese and Disneyland can just feel a little warmer than expected sometimes. There is a lot of direct sunlight. We use this water bottle https://amzn.to/3S9by3r that is also a mister, which helps when we need to cool off. It fits nicely in a stroller cup holder or backpack pocket. We also like these cooling cloths. https://amzn.to/3oI8jT6
Strollers
I highly recommend strollers for kiddos, even when they're past the stroller stage. Disneyland is A LOT of walking. Heat and exhaustion were Reese's main triggers so at 6 years old, I still encourage it.
Also, both my kids fall asleep in the stroller by the end of the day and if we're with a big enough group, we're able to carry on and do some "big kid" rides while someone stays behind with the sleeping kids.
If your kid is one who uses a stroller sometimes but not all the time, consider the GB Pockit stroller (https://amzn.to/3Q76xGF). It's great for travel in general (I've literally rolled it down the airplane aisle and then folded it up and put it overhead – it counted as Reese's carry on), but also fits inside the large Disneyland lockers with plenty of room to spare. You can store it for the morning and then pull it out towards the end of the day when your kiddo is getting tired.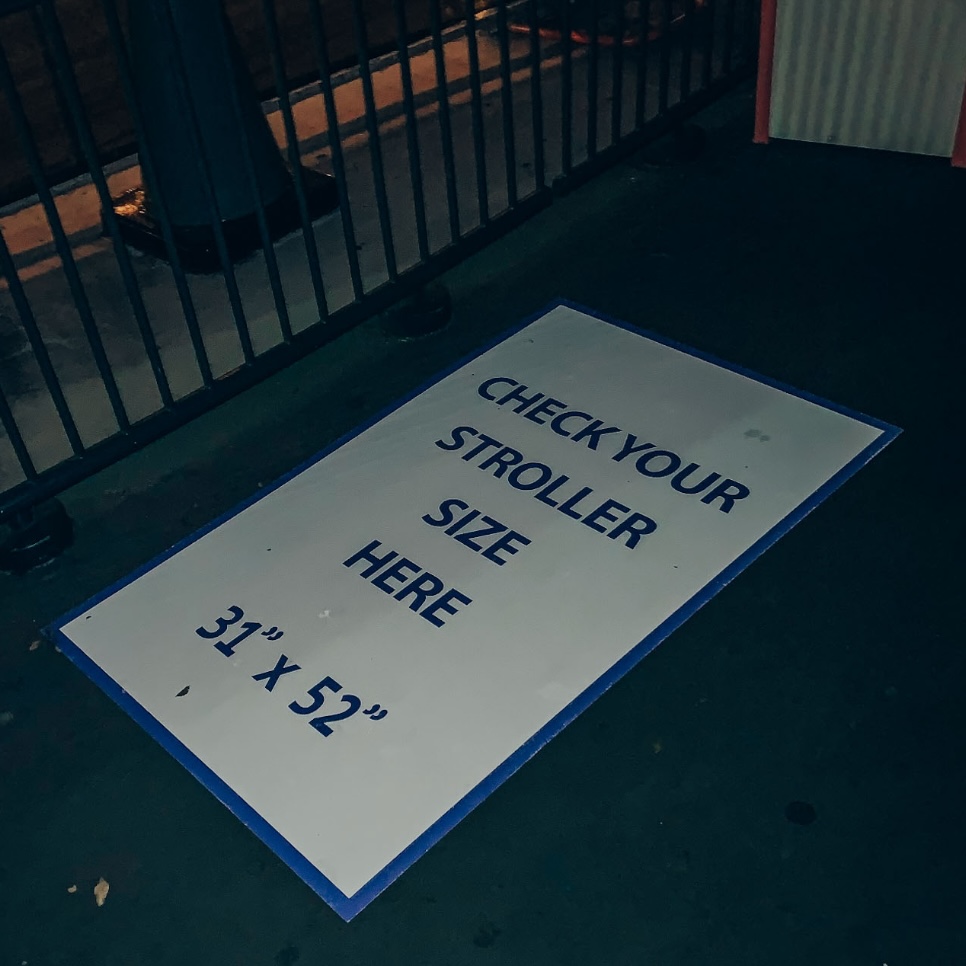 Wagons
For kiddos that use Keenz style wagons – Disneyland no longer allows wagons. They also don't allow some of the wider double strollers (because of size restrictions). They make rare exceptions for allowing wagons (in 6 full days in the park, I saw 3) – if they allow the exception, it will get a blue tag. The exceptions are usually because there is a medical reason why a stroller or wheelchair won't suffice. If your kiddo can use a stroller/wheelchair, I recommend that just because it'd be a shame to pack it and not have a regular stroller and then get denied (although they do rent strollers if you need to in a pinch, but you'd still have to do something with your wagon – take it back to the room or car or possibly rent one of the larger lockers outside Disneyland that I mentioned before, but those can sell out).
Air for Tires
If your stroller or wheelchair needs air in the tires, there is a tire pump outside of Disneyland Park entrance to the right. It's hidden in a box, and you sort of need to know where to look, but it's there!
Disability Access Service / Red Tag / Parent Switch Pass
There are a few useful services to be aware of at Disneyland that can be especially helpful – the Disability Access Service, Red Tag, and Parent Switch Pass.
If your child has a stroller that is used as a wheelchair, ask to get it "red tagged" which will let cast members know to treat it like a wheelchair and allow it places that strollers aren't allowed (like in queues that are ADA accessible/wide enough for a stroller or wheelchair, inside the Tiki Room, and inside the Art of Animation building).
If your child has needs that makes Disneyland difficult, chat with a cast member about what could help. Depending on the needs, they may issue a DAS, which helps for those that have difficulty waiting in lines – you still wait the time, but you're able to do so in a more comfortable place, like in the shade. You can now apply for a DAS before your trip by setting up a video call to chat with cast members.
For both, either go to City Hall or any teal umbrella (there's one at the end of Main Street and usually one in each land).
If your kiddo has photosensitive epilepsy, let the cast member know and they'll be able to let you know what attractions may not be advisable.
If you have a kiddo that doesn't want to do a ride and needs an adult to stay behind to watch them, but that adult also wants to ride, they can ask for a "switch pass." The group will enter the line and ask for a switch pass and will be given a paper pass or their ticket will be scanned. Once the group is done riding, the adult who waited the ride out can take the scanned ticket or paper pass and go through a much shorter line, to not have to wait in line twice for everyone to ride. The person using the switch pass can bring another person or two with them using their pass so that they don't have to ride alone. This is a great option for both parents to be able to enjoy riding a ride with one kid.
Places for a Break
As I've mentioned, heat and exhaustion were big triggers for Reese, so we're always looking for a place indoors to be able to relax for a while.
You can of course sit down for an extended lunch or snack – if Reese needs to rest but Nico is still up for some rides, we like to sit down at a table at Red Rose Tavern and then Nico can go with an adult and do lots of Fantasyland rides.
In Disneyland, we use the Tiki Room to cool off, or ride the Train (although it's outside) to rest our feet for as long as we want – you can go around the park as many times as you want. If you have a stroller or wheelchair that cannot be folded, you'll need to wait for an available designated spot and cast members will help you wheel up and onto the train. The Main Street station isn't wheelchair accessible, so you'll have to get off before (in Tomorrowland) or after (in New Orleans Square).
If your child uses their stroller as a wheelchair (or even if their wheelchair looks a bit like a stroller as some do), get it "red tagged" (it will allow you, for example, to take the wheelchair into the Tiki Room where they otherwise require strollers to be parked outside). If your child has active seizures or any number of other special needs, look into getting a DAS pass. You can even register for it via video call before you arrive.
In California Adventure, Art of Animation building is a great place to cool off on hot summer days. They have fun music and lots of places to sit. And you can head down to the Beast's Library or watch Turtle Talk with Crush (it's one of Reese's favorites) while you're there.
Another fun place for a break (if you need one more for you or if your kiddo with epilepsy needs a break but you have other young kiddos with you) is the Disney Jr Dance Party in California Adventure.  We go several times each trip. It's indoors and the kids get to dance with their favorite Disney pals.  Mickey even makes an appearance!  They allow strollers as long as they're red tagged and parents can sit down and cool off while little ones dance next to them.  There's confetti that comes from the ceiling and bubbles, but it also has some flashing/disco lights that may be a problem for photosensitive viewers.
Buffets and Table Service
In general, we try to play down food… our group gets the occasional churro or beignets, but we usually opt for quicker and more casual dining options.
We don't do table service dining as often, but when we have, we've never had any issues with bringing our own food for Reese after a quick explanation of how strict Reese's diet is.
I've heard that for buffet type restaurants (more common at Disney World), they will often still charge you for your keto (or other medical diet) kid. I hear that they're good about making exceptions for kiddos with G-tubes and you can ask a manager when you're there and they'll sometimes refund it, but that it isn't guaranteed. I don't have any experience here.
If you go a lot or have many kids, consider buying the glow cubes that Blue Bayou uses – they're about $7 each at Blue Bayou but much cheaper if you buy in advance on Amazon (I've just pulled it out of my purse and popped it in Reese's drink right at the restaurant – and then used the leftovers for Thanksgiving at our house and they were a big hit with all the kids) https://amzn.to/3JpxraI (I purchased one from Blue Bayou and liked it so I came home and bought the same brand on amazon).
Cast Members
Cast members are amazing… if you need help, ask! Once (after Starbucks was closed), I had a tough time getting Reese to take her meds and asked for a little sugar-free vanilla syrup to mix into it and they gave me some.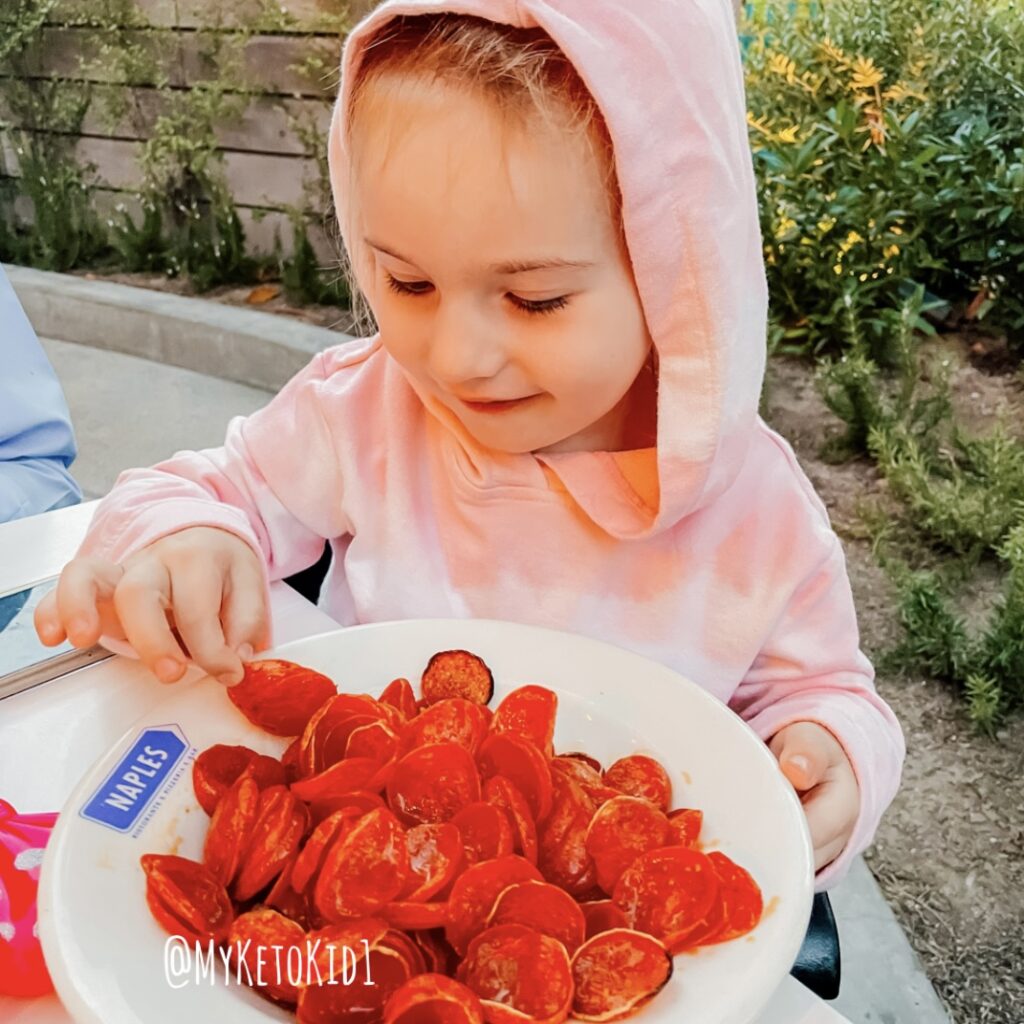 Check out this GIANT bowl of pepperonis we got (at Naples, a restaurant in downtown Disney – not inside the parks) when we said Reese was keto for epilepsy… we were thinking we'd get like 10 or 15 but they hooked it up! For this alone, Naples has become our favorite restaurant for the night we arrive (and all of our non-park days).
Helping Kids Understand Scary Rides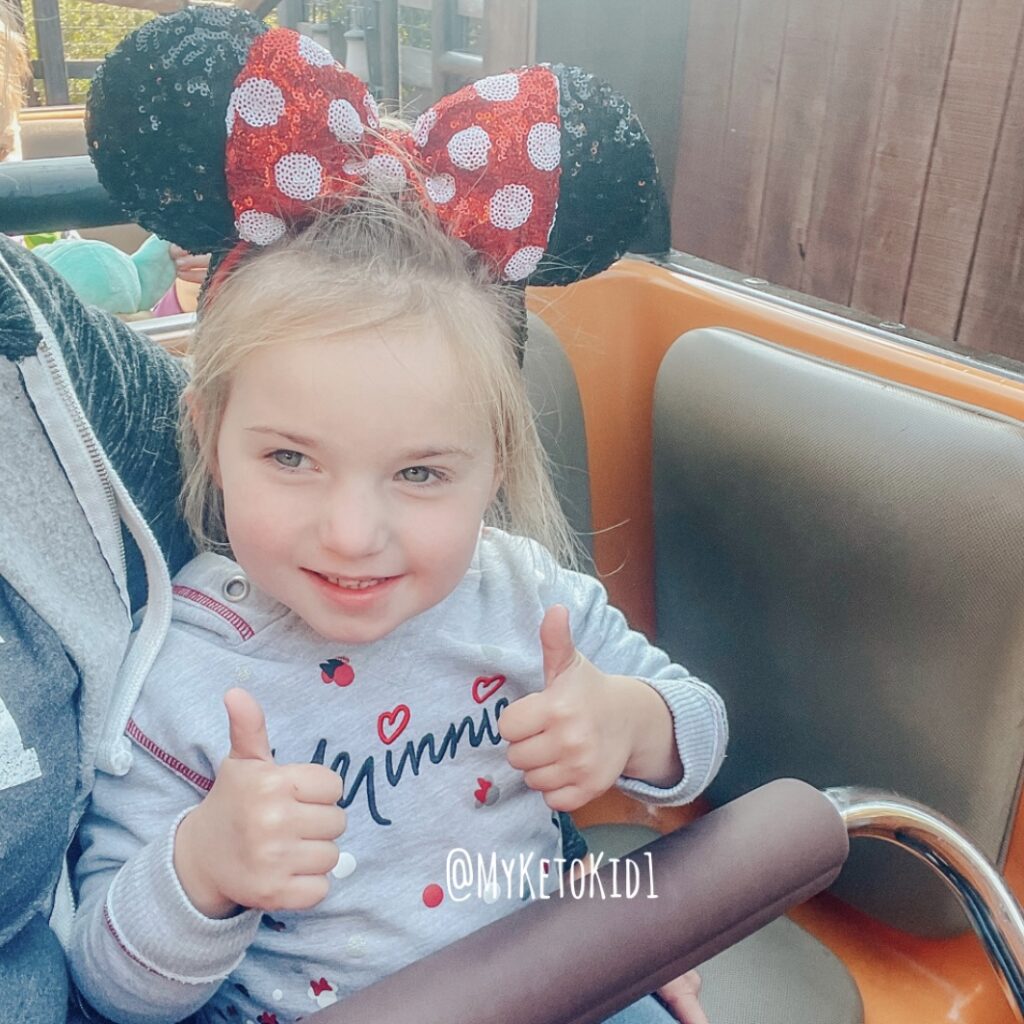 When Reese was heavily medicated, nothing was scary to her. I think she didn't fully grasp what was going on because the meds were mellowing out her brain so much. But once we weaned meds and she got a little older, some rides had aspects that could be a little scary for her. She went from liking Pirates of the Caribbean to not wanting to ride because of the 2 drops at the beginning.
I read a story that really spoke to me. I wish I could find the original, but I'll try to paraphrase. It said imagine you were in an airplane and experiencing turbulence for the first time. It's rough and you're nervous and thinking the plane is having some type of serious malfunction. And the pilot came on the speaker and said "there's nothing to be worried about" – invalidating your feelings wouldn't help at all!
It'd be far more helpful if the pilot said, "There is going to be some turbulence coming up. It's going to be rough and bumpy for a little while and you might get scared.  But I'm not scared, I've done this before, and I'll get us through this safely."  I anticipated that Reese may get scared on rides, so that's how we approached it and it worked wonderfully!  I told Reese that there would be 2 drops on Pirates of the Caribbean and that it might feel scary, but I'd hold her close and keep her safe and then we could see all the pirate treasure. 
With this explanation, although still a little weary of the drops, she wanted to go on it repeatedly (and on our last day just before closing and much to her delight, we got to ride 3 times without exiting!).
Every kid is different, of course, but she was initially hesitant to ride Pirates of the Caribbean and no longer is – she now tells us "Two drops, but I'm a brave girl!" because we warn her in advance of the scary parts.
Ear Protection
For kiddos sensitive to loud noises, bring ear protection! I've always brought Reese's ear muffs for the weekend fireworks shows. But on our most recent trip, I noticed she tolerated Space Mountain, but didn't seem to enjoy it. I couldn't figure out why – she usually loves proprioceptive input. So although it didn't strike me as particularly loud, I tried putting her ear muffs on her for Space Mountain and she LOVED it! With her ear muffs, a lot of rides became considerably more enjoyable for her and she now asks for ear muffs on several rides.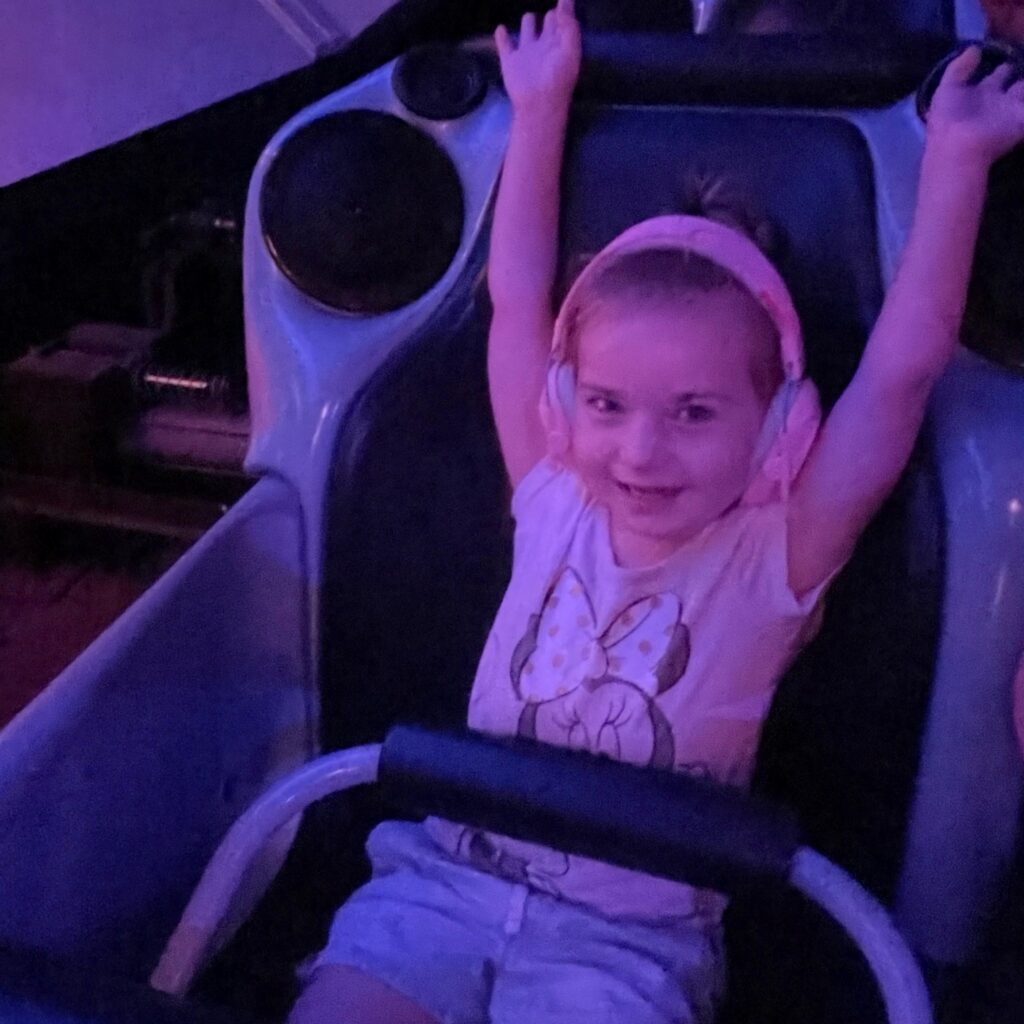 General Disney Tips
Rope Drop
Arrive early, preferably at rope drop – Disney opens the gates before their posted opening and you can walk up to the rope at the hub right before the castle. We often get a breakfast at Starbucks, walk to the rope, and enjoy our breakfast as we wait for the rope to drop at the posted opening time. It's become my favorite way to start the day.
You'd be surprised how much you can get done early in the morning when other people are sleeping in a little more. I aim to be at the gates 45 minutes before the official open.
Balloons
If you have a kiddo that likes balloons, I HIGHLY recommend buying a Velcro wrap to put on your stroller handle to hold the balloon. It makes it easy to cinch down quickly to get through crowds or let up when there's more space. Also, if something happens to your balloon and it pops, they'll replace it – just take the deflated balloon to a cast member selling balloons. https://amzn.to/3oF7uub
Phone Chargers
Buy a Fuel Rod on Amazon in advance. I use my phone a lot during the day (to take pictures, use the Disneyland app to check ride wait times and mobile order food, and to calculate Reese's meals). They have Fuel Rod machines throughout the park, and you can put in your used one and get a fully charged one instantly. Amazon has 2 Fuel Rods for about $35 right now, whereas in the park, they're $30 each. https://amzn.to/3JpxraI
Also, turn Bluetooth and wireless fully off, turn email off cellular, and switch the battery to low power mode to save battery.
Whale Watcher
On the Storybook Canals, ask if your kiddo can be a Whale Watcher. They can sit on the front of the boat!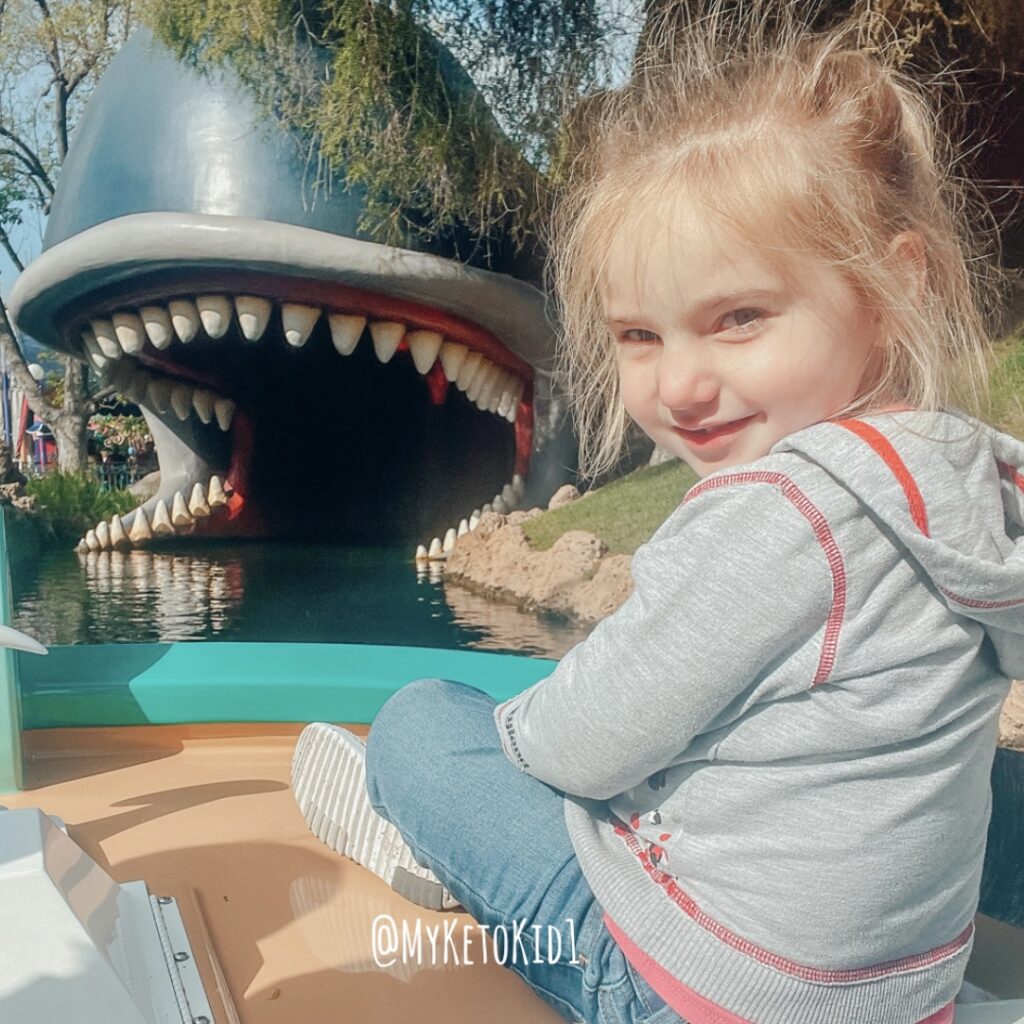 Save Shopping for the End
Main Street shops stay open for 1 hour after the park closes – consider doing your shopping then.
Last Ride
And if you get into a line before the park closes, you get to ride it (for example, if the park closes at 11:00pm and you get into the line for Space Mountain at 10:59, you're good to go!)
Use a Stroller
Consider a stroller (like the GB Pockit I mentioned before https://amzn.to/3Q76xGF ) even if your kiddo doesn't generally use a stroller anymore… it's A LOT of walking and letting them rest a little may make for a more enjoyable experience overall. And having a place to store some of your stuff never hurts!
Prepare for All Weather
Nights can cool off quite a bit – it was 90 degrees but by the evening, Reese wanted a sweater and a blanket. https://amzn.to/3vo2tK8 – this is a blanket we like a lot
Fanny Packs
I don't care what anybody says… get a Fanny pack! I leave it on during the rides so I have easy access to my phone before and after for a quick ride pic. And I use the smaller outer pocket for my wallet. Having both hands free while walking is great.
https://amzn.to/3JlY8gf Mickey print
https://amzn.to/3JlY8gf Black
Straws
Pack your own straw (even for adults) – they only have paper straws in the park and for me personally, that just ruins drinks after the straw gets a little soggy. We got this 4 pack and have liked it (everyone has a different color so when we use them throughout the day, we don't confuse them). https://amzn.to/3S6SJh4
I hope these tips help you plan for your trip with a little more confidence. And more than anything, I hope you have the most wonderful time at the Happiest Place on Earth!