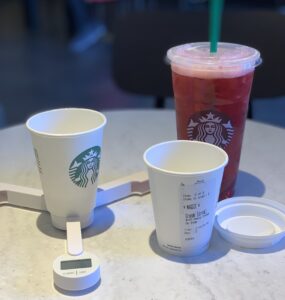 We've been doing this for a relatively short amount of time, but I'm feeling like we're really hitting our stride lately. One thing that has helped us stay focused is how well Reese has responded. It's also been helpful that she's been relatively compliant. Sometimes she's not thrilled about eating her butter and that can be rough. She also sometimes gets hungry and so therefore, cranky.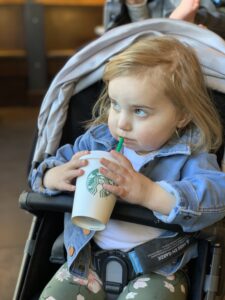 We were shopping at the mall yesterday and she wasn't having it. She didn't have her cream from breakfast, so I went into Starbucks and ordered myself a drink and since there was no line, I explained our keto situation to the barista. I was wondering if there was an easy way to order such a small amount (1oz) of heavy cream – if that was even a thing. It's not, but the barista was very helpful – she said that I could order my drink and ask for heavy cream on the side and that it would probably be about an ounce. It was excellent! And free! I always have my gram scale, so I measured 30 grams and Reese was quickly back to being a happy camper!
Since the beginning of this, I have been determined to not let this get in our way of enjoying life. And today was another reminder that life does go on while keto!